508-506-8940
Our Veterans Alcohol And Drug Rehab Program In Boston
Our Veterans Program aims to serve each Veteran and their family members with responsive, competent, and compassionate inpatient alcohol and drug rehab in Boston. Our services are performed by highly-trained personnel who show understanding and support for the unique experiences of Veterans and military families. It's one small way that Sunrise Detox Millbury is able to thank and care for our heroes in uniform.
Our Veteran Commitment:
We offer personalized support led by devoted and accredited healthcare experts with decades of experience in addiction treatment and evidence-based methodologies. Sunrise Detox Millbury closely collaborates with most U.S. Department of Veterans Affairs (VA) providers to make certain that our addiction and behavioral health treatments are able to deal with specific healthcare requirements.
We are committed to life-changing addiction support for Veterans and their family members. Our therapy will help you develop necessary skills for a lasting recovery while caring for you with the empathy and compassion you are entitled to.
Treating You Along A Continuum Of Care In Boston
Sunrise Detox Millbury works closely with neighboring VA facilities to offer and coordinate differing levels of support for qualified Veterans served by the VA Community Care Network (CCN).
At the crux of our approach is a proven Substance Use Disorder (SUD) treatment model designed to meet the full extent of addiction treatment requirements from detox services to outpatient counseling that perfectly complements the VA system of care. Our treatment model has been proven to be effective in helping VA patients attain better health, and enduring recovery from addiction and mental health disorders. Characteristics of our support model are:
Instant access to comprehensive services from detox to counseling
Case management and coordination of treatment with VA representatives
Specially designed Veteran-centric counseling, psychiatry, peer support, and internal medicine
Medication-assisted treatment with FDA-sanctioned prescriptions
Meditation as a complementary therapy to reduce anxiety
Transportation supplied to and from our locations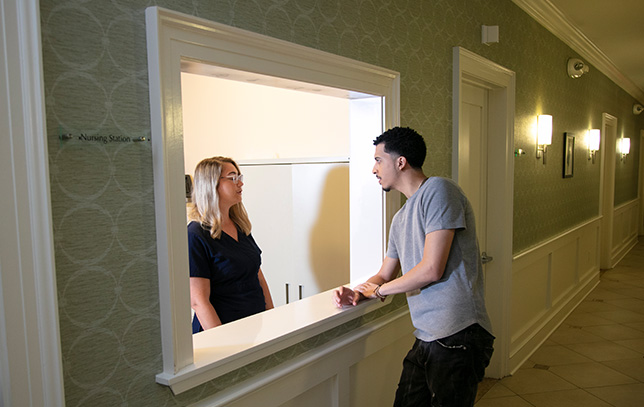 Customized Substance Use Disorder Treatment for Veterans
OptumServe has named Sunrise Detox Millbury as an authorized provider under the VA's Community Care Network to provide eligible Veterans with specialty Substance Use Disorder (SUD) treatment.
If you're an eligible VA patient, you can benefit from expert assistance at Sunrise Detox Millbury by obtaining a referral from your area VA headquarters or VA provider. Once the VA or VA provider issues the referral, we can quickly arrange treatment with the VA, ensuring that you have total access to the therapies and services at our facilities while also planning your return visit to the VA for additional services.
Sunrise Detox Millbury engages in case meetings with area VA staff to confirm program effectiveness and the plan for ongoing care. And we frequently request comments from Veterans and their families to be certain that we are performing to your satisfaction.
You Have A Right To The Leading Veterans' Drug And Alcohol Rehab Program In Boston
The sacrifice each Veteran and their loved ones have made to serve and protect us puts a special responsibility on all VA CCN providers to do their part promptly, professionally, and effectively. We recognize the privilege of that obligation and we are driven in all aspects of our work to make certain you and your family understands the depth of our gratitude. To start a conversation with a SUD representative, call 508-506-8940 or complete the form on this page today!