508-506-8940
Oxycodone Detox near Boston
The initial stage in oxycodone treatment is detox at a credentialed facility. This is due to the fact that quitting alone can give rise to agonizing -- or deadly -- withdrawal symptoms. Rather than putting your life at risk, get the customized support you need from our medically supervised detox near Boston. Sunrise Detox will keep you protected and progressing toward an enduring recovery.
If you have a problem, don't delay. Dial 508-506-8940 to get admitted immediately.
Do I Need OxyContin Detox Near Boston?
More commonly referred to by the brand name OxyContin®, oxycodone is generally prescribed to treat pain of a severe or chronic nature. Unfortunately, psychological and physical dependence can take place quickly, particularly when using beyond or without a prescription.
There are several clear indicators of substance use disorder, including:
Persistent urges to use
Suffering symptoms of withdrawal when not using
Increased tolerance and requiring more of the drug to get the same effect
Using and obtaining the substance becomes more crucial than work and family responsibilities
Withdrawing from friends and family
Frequent mood swings and irritability
An addiction can manifest itself in a variety of ways and your circumstances will undoubtedly differ from other individuals. Taking that into account, overcoming an OxyContin addiction usually starts with detox to rid your system of the opioid.
What Can I Anticipate From Oxycodone Detox At Sunrise?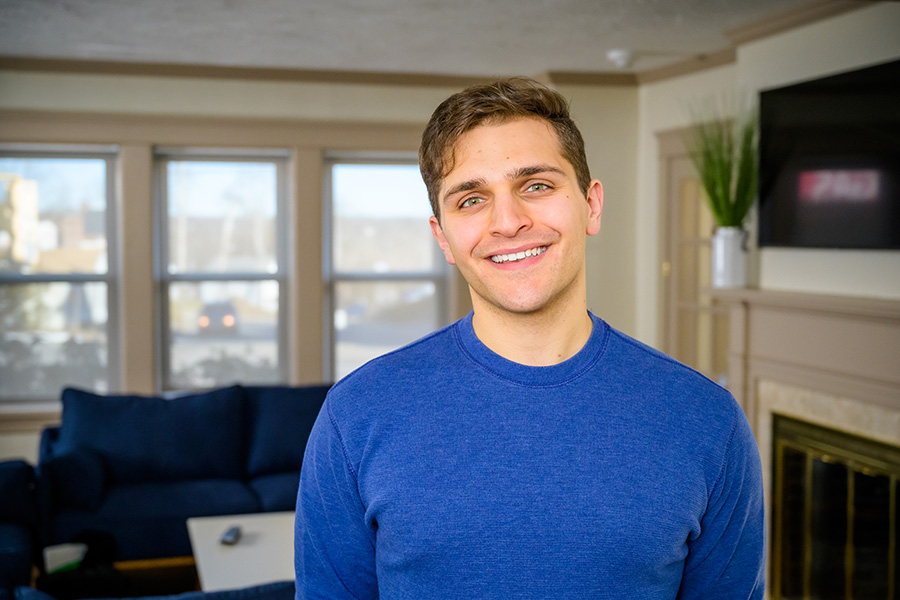 Our skilled medical providers have two chief aims. First and foremost, we will
assist you in detoxing safely and effectively.
Next, we want to lay the groundwork for your total recovery. We attain this through an individualized approach that starts with a comprehensive appraisal once you get here. Thereby, we have the ability to prepare detox services that fit your specific circumstances.
You will have a specific treatment plan to lead you and a committed team to watch over you 24 hours a day. We'll routinely monitor your vital signs and manage any withdrawal symptoms, like:
Anxiety
Depression
Nausea and vomiting
Insomnia and restlessness
Agitation and irritability
Body and muscle aches
Elevated heart rate and high blood pressure
Controlling withdrawal with proven medication helps you securely clear your system of OxyContin. We'll also keep you at ease and boost your general health at our detox facility near Boston with cozy bedrooms, healthy meals, and access to beverages and snacks throughout the day.
When you're up for it, you'll have the opportunity to engage in personal and group therapy. This will let you examine the triggers of your oxycodone disorder and prepare you for the subsequent step of rehab.
What Is The Duration Of OxyContin Detox?
Due to the fact that we take a customized approach to your detox, the amount of time you stay with us may differ from others. The primary objective is a safe and successful detox and we'll do whatever is necessary to accomplish this. The final timeframe of your residence may be impacted by:
The extent of your OxyContin use
Your physical condition
How responsive you are to treatment
Medical history
In general, people can successfully detox in 7 to 10 days. Whenever you're medically fit and readied with an aftercare plan, we'll aid you in finding and enrolling in the proper rehab program for your needs.
How Can Sunrise Protect Me Over The Course Of OxyContin Detox Near Boston?
Sunrise Detox Millbury takes a two-part approach to ensure your safety. To start, we help you handle potentially hazardous withdrawal symptoms. Subsequently, we'll make certain you steer clear of a secondary addiction to detox meds used in tapering you off OxyContin. It's a careful balance our healthcare providers successfully handle on a daily basis.
Our dedication to keeping you safe includes:
24/7 guidance from licensed medical professionals
A controlled setting clear of Oxycodone triggers
Personalized care plans particular to your needs
Aftercare planning to supply a blueprint for your recovery
Unwavering patient privacy rules enforced to protect your personal info and treatment details
A separate aspect of your safety is the implementation of detox meds like Suboxone. This option is less likely to bring about a secondary addiction and is shown to be effective in detoxing from opioids.
When administering Suboxone, we obey the ensuing guidelines:
We avoid using Suboxone in the early stages of your detox as it might result in precipitated withdrawal
We'll issue an initial dose and observe how you respond
We'll alter your dose as needed or consider other treatment options
Ultimately, we'll carefully wean you off Suboxone
Get Started On Your Journey to A Sober Life With OxyContin Detox Near Boston Today
Take the initial step in prevailing over OxyContin addiction by contacting Sunrise Detox Millbury. Our medically guided oxycodone detox near Boston will help you through withdrawal and set the stage for an enduring recovery. Call 508-506-8940 today or complete the form below to find help. We reply immediately to all communications, any time of day, all year long.